by Marco Gil-Cervantes | 21st Nov 2018
This week ProMo-Cymru are welcoming Government representatives from Catalonia. They will be visiting to learn more about how ProMo-Cymru does online communication. This visit came about following a conversation in the Ukraine at the start of the summer.
Back in June our Chief Executive Marco Gil-Cervantes visited the Ukraine to present at a seminar supporting the development of youth information and online advocacy in the country.
"During the visit I had many discussions with Montserrat Herguido from Catalonia," says Marco.
"She suggested that she would like to visit Wales and learn more from the online communications work of ProMo-Cymru, hence the present visit."
Unfortunately Montserrat herself is not able to visit this time, but four other representatives from the Catalan Youth Agency will be visiting on Thursday and Friday.
The Ukranian Seminar
The National Seminar on Youth information and Counselling Services was held in Vinnytsia, Ukraine on 20 and 21 June. ERYICA (European Youth Information and Counselling Agency) was asked by the Council of Europe to provide support to the Ukrainian Government youth departments to develop the youth information infrastructure.
People attended from all over the Ukraine, an area of over 1,000 miles wide and 1,000 miles long. They listened to a variety of speakers including Government Ministers and youth services. ERYICA took along representative network members to present and show best practice. These were:
– Evaldas Ruckus – Youth information in Germany (previous Coordinator for Lithuania)
– Mika Pietilä – Youth information in Finland
– Marco Gil-Cervantes – ProMo-Cymru
– Montserrat Herguido – Catalan Government youth information
The second day involved some ERYICA training being delivered to youth workers and youth information workers. They split up into working groups to discuss building up youth information services in the Ukraine.
Ukraine crowd – interested in the @ProMoCymru TEC Model https://t.co/vUnbwK7cQH and putting young people at the heart of communication @ERYICAYI pic.twitter.com/lLwlcQD1oj

— Marco Gil-Cervantes (@MarcoGilCer) June 20, 2018
Why was ProMo-Cymru there?
ProMo-Cymru was invited to host a workshop on Digital Youth Information Work.
"The Ukraine are at the beginning of a journey," explains Marco.
"My role at this seminar focused on the use of digital information. I presented theSprout, Meic and how ProMo-Cymru produces social media campaigns with the involvement of young people, such as the award winning 'Butterflies'."
Marco also introduced our innovative TEC Model and went through the principles of agile/lean methodologies. He asked workshop attendees to devise their first small-scale project that could be produced and tested within a month.
"People came up with ideas around using social media to highlight accommodation available for young people in their area and allowing young people to rate the accommodation online, a 5 minute Youth TV slot on local TV," adds Marco.
"Agile thinking leads you to start small, test, learn and iterate. It moves away from the grand plan borne out of wishful thinking. We talked about avoiding white elephants, and I was aware of Ukraine's history of 'planned' thinking".  
Ukraine steps toward youth information @ERYICA @ProMoCymru. From the panel youth info is the cornerstone of youth work pic.twitter.com/fdDFPcbG4i

— Marco Gil-Cervantes (@MarcoGilCer) June 20, 2018
How did it go?
So how does Marco feel that the Ukraine youth workers responded to the information given to them during the seminar?
"Ukraine is certainly in transition and still has an armed conflict with Russia in its eastern border. The conference and the youth centre which held the conference was modern and the young attendees clearly had modern attitudes, although I felt I could feel some sense of 'waiting for permission' to go forward (but this is based on instinct not fact which I know I can get wrong).  Many of the council vehicles were from the Soviet army days.
"What I could see was commitment and a willingness to learn. The development of youth information in the Ukraine is a commitment to develop their future, it is their people and I would argue it is their future as a democracy," he concludes.
___________________________
This work has been made possible because of a grant accepted from the Paul Hamlyn Foundation. The aim of this grant is to enhance our existing work and to develop future options for virtual youth work and information services.
Keep an eye on our Twitter account at the end of the week to see how our Catalan friends are getting on.
___________________________
Everything starts with a conversation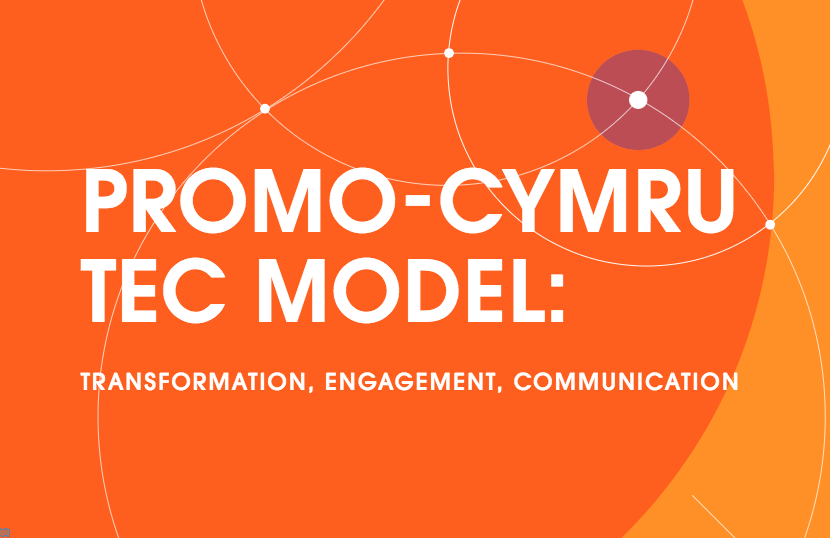 ProMo-Cymru works towards building positive change and lasting relationships between individuals, families and communities. Providing innovative and creative solutions through meaningful conversations and digital technology. If you'd like to discuss how our TEC Model can help your organisation then get in touch.