Core Principle of the TEC Model
ACTIVE ASSISTANCE
Focused on education, prevention, earlyintervention and self-help

CO-DESIGN
Actively listening to and involving citizens in the design of the service

CITIZEN FOCUSED
Providing the right help at the right time in the way citizens want it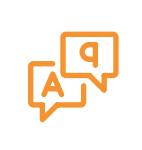 ACCESSIBILITY
Providing information in simple, concise Welsh and English
View a PDF of the full TEC Model brochure for Wales.
Our Services

  Call centre with trained advisors
Staffed by a team of highly skilled advisors, providing information, advice and assistance to end users. Operating hours are flexible, depending on your needs.

Strategic coordination and management
Providing seamless strategic coordination and management of service delivery to ensure your targets are achieved.

Citizen engagement and consultation
At ProMo-Cymru everything starts with a conversation. We believe strongly in consulting and co-designing with our end users. This process ensures that we create services and products which are valued by our end users.
Analytics
Understanding how your communication tools are performing is key to informing ongoing developments. We will equip you with this information to help you track and evaluate your outputs.

Content creation
Creating bespoke, quality content to inform and engage with your end users, which can be managed through a content management system (CMS).
Branding and values
Working with you and your end users to develop the right branding for your service, ensuring you clearly and convincingly communicate who you are and what you can offer.

Digital communications and marketing
Devising suitable digital marketing strategies utilising SEO, Google Adwords, content marketing, social media marketing to connect with the end users.
Website design and development
Designing and developing websites, including SSL-secured sites, using a co-production approach to include features and functionalities to suit the needs of end users.

  Virtual call centre technology and database development
Putting in place multi-channel cloud-based call centre technology offering security and flexibility, and a bespoke database management system to capture cases for monitoring and evaluation.