by Sam Easterbrook | 11th Aug 2016
ProMo-Cymru has two fully bilingual projects: FamilyPoint Cymru and Meic, aimed at families and under-26s, respectively. With the best of the summer (and hopefully weather) yet to come, we donned our best wellies and headed out to to engage with some of Wales' half a million Welsh speaking families!

So what did we learn from the week long festival in Abergavenny? Lots, but here are 3 things:
1. 1a) How to approach someone at a picnic table, and 1b) how to win at merchandise
It's lunchtime at the Eisteddfod. There are picnic tables crammed with families on all sides. You've eaten your lunch, had a wander, but it's back to work. But all the people you want to speak to are eating.
This is where it really pays to have useful branded merchandise. As it turns out, absolutely no parent will ever turn down free wet wipes during lunchtime. [It is scientifically proven that a toddler can successfully smear ice cream over three people in under 12 seconds.]
We were quickly building a reputation for ourselves as a helpful service; by the end of the week, people were asking after our wet wipes, as well as asking about who we are and what we do.
Make your brand useful to people, and your audience will come to find you.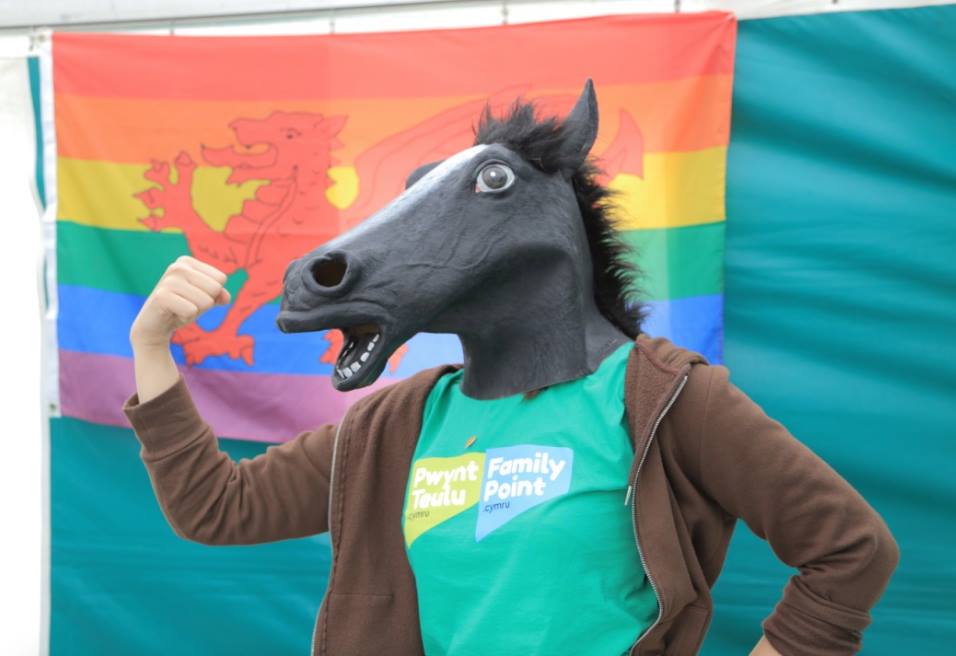 2. Everyone loves dressing up. (Even people who say they hate dressing up.)
At most events we attend, we try to have a photobooth on hand. While this might seem like a ploy for us to take stupid pictures of ourselves wearing horse masks, it's actually an amazing engagement tool.
We can show off our fancy camera skills, but it's great for everyone: professionals fed up with the weather, or parents with kids who need distracting, and we get a guaranteed moment to talk to them about our service.
The most important lesson we learned is that this drives traffic to our Flickr, Facebook and Instagram pages, and your audience can really connect with your message.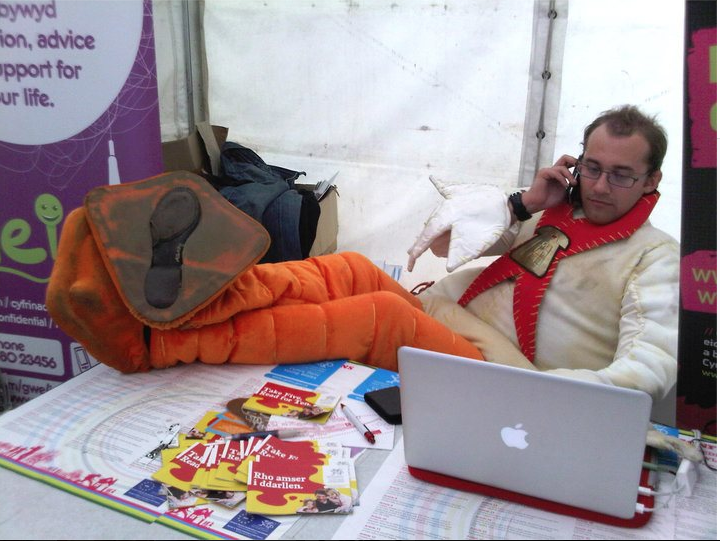 3. It's the taking part that counts.
The most important thing we learnt from #Steddfod16 was how much more engagement gets done when you just give things a go. Whether it's doing a quick walkabout and asking people about the competitions, or wearing a silly mask to draw attention to yourself — the biggest and best thing anyone can do is just take part, really. Think the festival's about chairs and druids and mud? Go to the Eisteddfod and learn from people. Welsh a bit rusty? Find out how to say basic phrases.
You should never underestimate how important it is to humanise your brand. What's more human than just giving it a go?
---
Want to learn more about these projects? Visit FamilyPoint Cymru and Meic here.
Interested in starting something new with us? Start a conversation now.
Our other blogs:
Lessons From Europe: Digital Youth Information & Communication