by Andrew Collins | 26th Oct 2017
Innovation doesn't come from technology alone. It comes from understanding how people interact with services. And how to be of value to an individual.
That approach is at the heart of our TEC model.
When we were approached by Mental Health Matters Wales and Bridgend County Borough Council about their new advocacy and support project, we knew the TEC Model was the perfect fit. It eventually became Bridgend Voice & Choice.
The idea was to create a localised advocacy and support team for the people of Bridgend County Borough. The project aimed to assist people in finding appropriate social services, make sense of their options and help them understand their situation.
This is an area ProMo-Cymru already has significant experience in. We run similar advocacy projects, Meic and FamilyPoint Cymru, for Welsh Government.
As the project was the first of its kind in any Welsh county borough, there wasn't a huge budget to take it from concept to completion. Fortunately, we had all the necessary skills in our team already. As well as having a dedicated Advocacy team, ProMo-Cymru also have a Comms team and Project Managers which built FamilyPoint from scratch.
Branding Bridgend Voice & Choice
Working with staff from Mental Health Matters, we developed a brand and identity for the project. This is where our designer, Augusté Poškaité was able to help. I'll let her explain the process…
"When you're creating a visual brand every detail counts: the right choice of colours, graphics and fonts. You need to make sure that everything helps to get the your message across. Bridgend Voice & Choice's branding colours, two shades of blue, were chosen by the client. Blue is a smart colour for the brand, especially as Bridgend Voice & Choice is an advocacy and information helpline. It has a universal psychological impact: trust, stability and order. Blue also has a calming effect.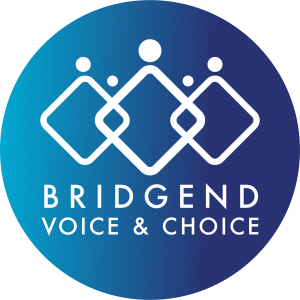 "To reinforce visual connotations with the services provided by the project, I wanted to make the logo look clean, sharp and simple – nothing too messy. We decided to use shades of blue for the background and a have clean white "line art" logo.
"The idea behind the design is people standing together to help each other. I wanted to create a logo that would give a sense of a caring community and would say 'you're not alone and we're listening'. I used very simple line shapes that represent people. Next I laid them out in the way so it looks like people have their hands linked.
"The name "Bridgend Voice & Choice" had to fit well with the line art based logo too. To create resonating visual weight, I chose to use simple typography and thin lined font."
Bridgend Voice & Choice's Website
In October 2016, mobile web usage overtook desktop for the first time in the UK. That means that people now prefer to use their smartphone to view websites, rather than desktop or laptop computers. This poses a real challenge for web developers. We need to create websites that are easily accessible but also useable across a whole range of different devices.
On top on that, in April 2015 Google announced they would no longer direct search to websites that were not 'mobile-ready'.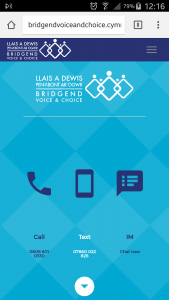 With all this in mind, we knew it was essential that Bridgend Voice & Choice's website was responsive. We decided to use the Bootstrap framework to achieve this. We also went with a one-page design as we felt this would be the best way to display all the information clearly and in an easily-accessible style.
This is consistent with all of Bridgend Voice & Choice's branding. It ensures the user has the same experience and familiarity when on the site, no matter what device they use.
As well as being responsive, the site is small in size meaning it's quick to load. A recent Google study suggested that 53% of mobile users will abandon sites that take longer than 3 seconds to load. So we know a quick loading speed is essential to ensure people actually visit the page.
The site's main feature, as set out in the client's brief, was to easily direct visitors to the multi-point helpline service. With this in mind, we made the text, call and instant message links part of the design of the site's header.
Visit the website now at bridgendvoiceandchoice.cymru. Alternatively, you can visit the Welsh language site at llaisadewispenybontarogwr.cymru
Bilingual Bridgend Voice & Choice
Bridgend Voice & Choice complies with Welsh Government's Welsh Language Policy. At ProMo-Cymru, everything we do is bilingual and we have our own in-house translation team. We were able to utilise this when creating the Bridgend Voice & Choice project.
Monitoring the success of Bridgend Voice & Choice
As we all know, proving a project's success is incredibly important – especially when it comes to funding. Fortunately, we were able to provide the clients with two key tools to monitor their progress.
Our multi-touchpoint contact management tool, Call Handling, comes with its own analytics tool. Call Handling allows you to see real-time and historic stats for all contacts to your helpline service. You can easily segment the data to see how the contact was made – via phone, text or instant message. You can also filter by date and number of messages.
The other tool is Google Analytics. We installed this into the backend of the Bridgend Voice & Choice website, and it gives them accurate up-to-the-minute data about visitor information. You can find out how many people visited your website and how visitors found you (via Google search, social media, a referral from another website, or whether they went direct to the URL). You can also find out what device they viewed on (mobile, tablet or desktop) as well as almost anything else you could wish to know!
This data will be crucial to Mental Health Matters when it comes to proving the success of the project when applying for further funding.
We're really proud of what we were able to produce for the client. Utilising the skills and knowledge we have in our team and working within the project brief, we've created a customer-focussed solution, with professional branding and a user-friendly website. All on a small budget.
The TEC Model has been at the heart of this process, from design and production to handover and delivery. This is what we mean by innovation and the TEC model. Highlighting how to engage and support through a human and digital approach.
---
Everything starts with a conversation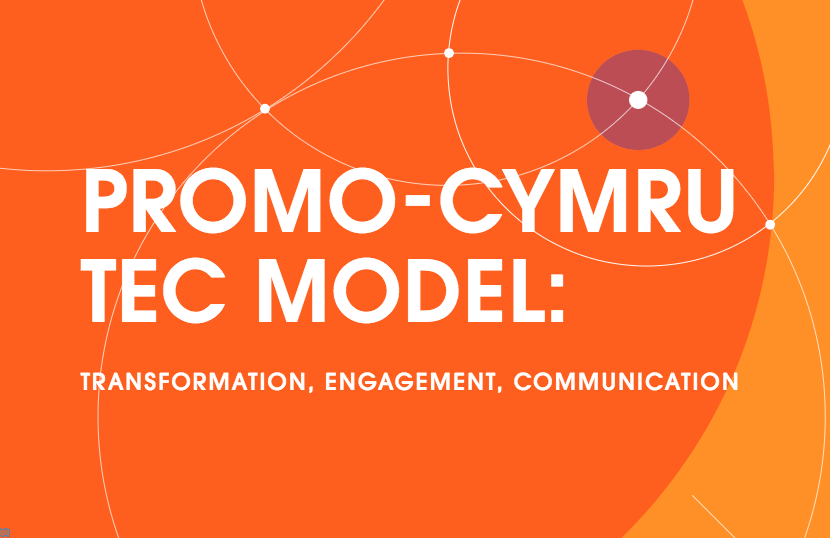 ProMo-Cymru works towards building positive change and lasting relationships between individuals, families and communities. Providing innovative and creative solutions through meaningful conversations and digital technology. If you'd like to discuss how our TEC Model can help your organisation then get in touch.