ProMo-Cymru has been increasing energy efficiency at our community venue, the Ebbw Vale Institute (EVI). We've been promoting sustainability in the local community thanks to a £32,523 grant. The grant was administered by WCVA from the Welsh Government's Landfill Disposal Tax Communities Scheme.
EVI is ProMo-Cymru's landmark community venue. It provides a programme of creative activities, learning and space for local social enterprises. Over 5000 people a month visit the building for a wide variety of uses and users. Reducing energy usage in a large building like the EVI helps reduce the local carbon footprint.
Energy efficiency
We worked with independent energy specialists to identify the gaps in the building's heating and lightning system and tackle energy waste issues.  This led us to install LED lighting, make urgent repairs to our state-of-the-art air source heat pump system, fit automatic door closers, eco-driers and energy-efficient wall heaters.
By carrying out these energy saving measures, we have saved 11.26 tonnes in greenhouse emissions. We've reduced our bills by £2,195 within 9 months alone.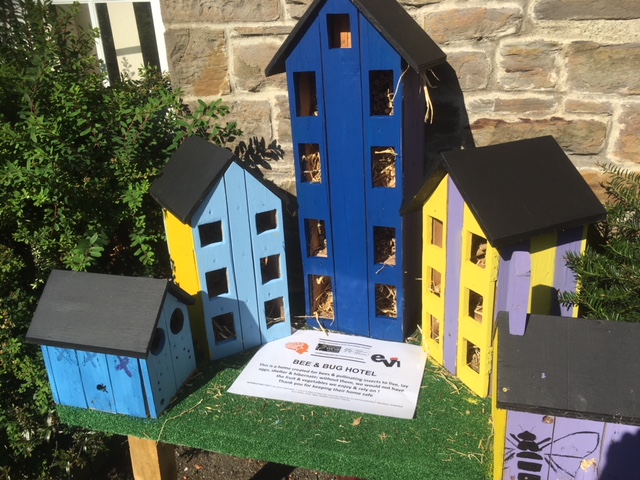 Working with the local community
We wanted to engage Ebbw Vale's local community in sustainable activities. 153 people took part in activities in the building and a further 5190 viewed our communication campaign.
In partnership with Llamau, we ran a plastic pollution workshop for Earth Day to increase awareness of plastic pollution. We also created a pollinator space with Eggseeds to increase the biodiversity of the area.
Most recently, we ran a 'Sustainable Christmas Family Fun Day' which included a pedal powered disco and upcycling workshops. Blaenau Gwent Council's recycling department were on hand to offer advice on recycling. Young people from Llamau also created an interactive display inviting community members to pledge how they can help the environment.
Active participation
Another part of the project was encouraging young people to actively participate in a communications campaign. They promoted sustainability by learning communication techniques and producing multimedia content. We worked with volunteers and ran a series of workshops, including:
– A video making workshop. Attendees learnt how to design and make videos to showcase the sustainability work happening at the EVI.
– A blog writing class. Attendees were trained to create news articles to promote sustainability and energy efficiency. They produced a number of articles on topics such as how to cut down on carbon, planting trees, sustainable tea and more.
Our volunteers created a short video and a number of articles for the Communications Campaign which reached 5190 people. The articles can be found here.