We worked with young people in Blaenau Gwent to pursue their musical passions and learn digital skills to inspire and broaden their futures.
After receiving funding through CWVYS to bring the Welsh Government's Summer of Fun Scheme to our Ebbw Vale Institute (EVI) Community and Cultural Centre, we set to work introducing free professional music production workshops, accredited video production training, Canva graphic design and TikTok creator sessions for young people in Blaenau Gwent.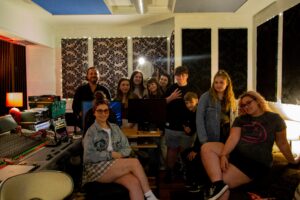 Budding South Wales Musicians
In collaboration with music producer Nick Brine, a long-standing EVI tenant who runs the state-of-the-art recording studio at the centre, we empowered a local group of young people to write, record, produce and promote their very own single. As well as having the opportunity to experience recording in a professional studio for the first time, they also further developed their knowledge during music production and promotion workshops with Nick, who's worked with the likes of Oasis, Stone Roses and many more.
Their single, 'Summer of Love' by KRU (ft. Kidz R Us), has already hit over 6 thousand YouTube views and over 3500 streams on Spotify. We joined them in the studio to document their journey.
'It's been an amazing experience from start to finish. We've had so much fun and learnt so much!' – KRU Member
An uplifting and upbeat song to get you through the colder months – take time to listen and support them by watching on YouTube and listening on Spotify.
Inspiring Futures
We also used our digital expertise to give 16-25 year old's in Blaenau Gwent the opportunity to inspire and improve their work, as well as adding useful skills to their CV. They learnt how to produce professional-standard graphic design content in Canva, gained accreditation in Video Production during a two-day course, and explored ways to create engaging content by tapping into TikTok throughout a series of workshops at EVI with our expert ProMo trainers.
"I've just finished uni and keen to add more skills to my CV as I search for jobs. The trainer explained everything very well, I understood everything! The sessions were really useful."

"I've learnt graphic design skills that will help with my own career path and improve the appearance of the YouTube and TikTok videos I already create!"
Outcomes
25 young people were involved in our EVI Summer of Fun project in total, gaining valuable experience and skills to inspire and broaden their futures. Four young people achieved qualifications for life.
We specialise in sharing our digital expertise and working with young people. If you would like to organise training for a group or collaborate on a project, email andrew@promo.cymru.