by ProMo Cymru | 1st May 2017
Written by Dan Grosvenor
Using Facebook as an Organisation:
Creating a Profile or Page
Social media is the most popular way for people to access information about, and engage with, organisations. It is essential the information they are accessing is up-to-date and accurate, and that they can easily engage with you. In this series of short guides we aim to teach you the basics of using Facebook effectively as an organisation.
Pages and Profiles
If you're new to Facebook the first thing to understand is the two types of Facebook user:
Every Facebook user has a Profile. A Profile is your online identity: it's personal and moderately private. It's where you list your favourite things (Likes), share your thoughts and memories, and is used to interact with others. Profiles are people.
A Profile
A Page is a public presence. Think of it like your website. A Page can be about anything: a company, a product, a celebrity, a campaign… Your aim is to get people (Profiles) to Like and engage with your organisation's Page. If this sounds confusing don't worry: as soon as you've signed up to Facebook and had a play it'll make sense.
A Page
Facebook used to be just Profiles. If you have an older account you might find it looks more like a person's Profile than an organisation's Page. Don't worry — it's easy to convert it into a Page. Alternatively you may want to turn it into a Professional Profile:
https://www.promo.cymru/professional-facebook-profiles/
You'll need a Profile before you can set up your company Page. For now don't worry too much about the Profile – keep it locked down in private mode if you like, as we'll cover that in a later chapter.
Creating a Page
Now it's time to create a Page.
Select the category that fits your organisation best
You'll be presented with different fields to fill in. Fill them in as reliably as possible: the more information you provide, the more interesting your page will be (for instance: providing an address will place an interactive map on your Page).
Make it Official
Anyone can set up a Page. One of your first priorities should be to assure visitors that this is the official Page. Upload your logo as your avatar, and find a nice wide image — preferably branded — for your cover photo. Perhaps a group photo of the staff, or something which encapsulates the work you do.
Verify your page. This will make it show up higher in search results and place an official tick at the top.
Embrace Featured Likes (particularly if you run multiple pages!)
Pages can Like other Pages, and recommend up to 5 of their favourites. Go and find some partner orgs or other Pages which reflect your ethos. Click the '…' button and select 'Like as your Page'.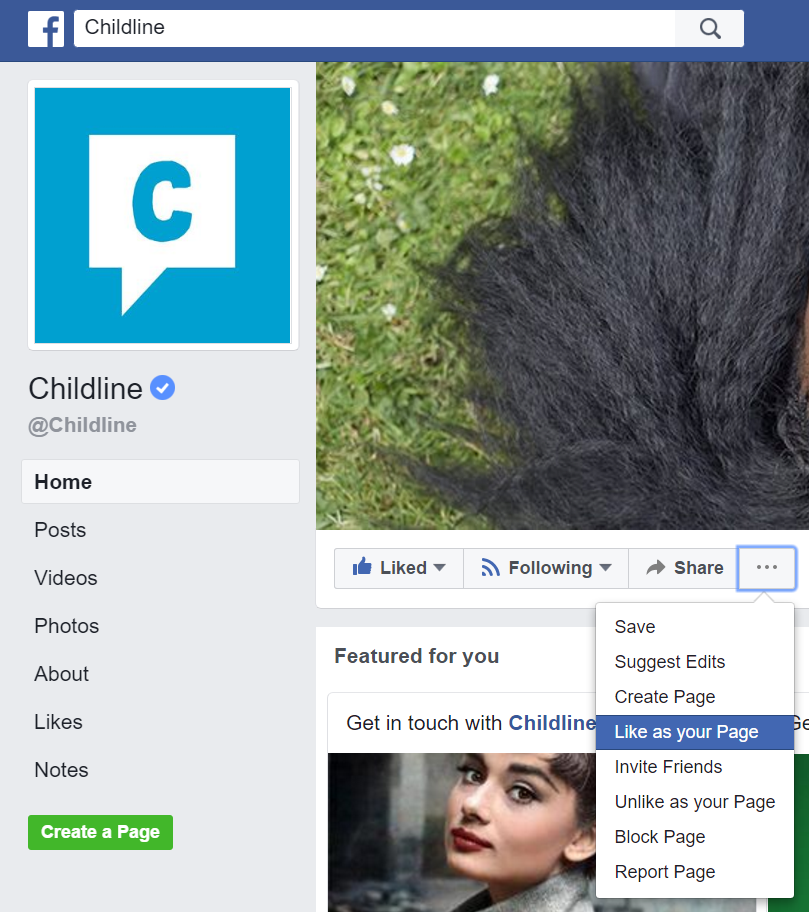 Now return to your Page, open Settings, navigate to Featured and select 'Add Featured Likes'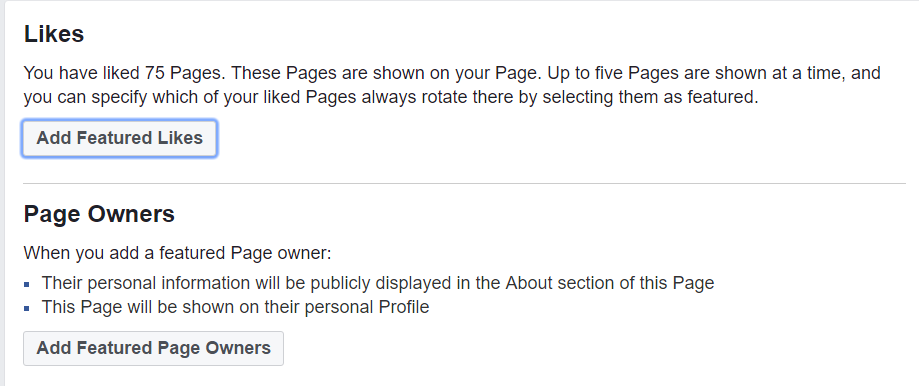 Initially this can be useful in giving your audience an idea of the kind of orgs you affiliate with or are similar to. But its real value comes when you persuade others to list you as a Featured Like as it's great, free exposure.
Reply Promptly to Messages
Doing so will unlock a bonus icon — but keep it up or it'll disappear! (However you can set office hours so people know when is best to message you.)

Once you have enough Likes you'll also be able to choose a custom URL (e.g. www.facebook.com/myorganisation).
---
Hopefully this is enough to get you started. Follow us on Facebook for more tips and tricks!
Want to learn more? Get in touch about our bespoke social media training.