Ministry of Life, ProMo and Wales Co-Operative Centre worked together to train the cooperatives of tomorrow by developing a 'Coop in a Box' training product for and with young people.
ProMo and Ministry of Life (MoL) have extensive track records of supporting young people to develop social enterprises. Wales Co-Op brought their own experience and networks as the lead body for co-operative development in Wales. This unique combination of skills resulted in the creation of the Coop in a Box learning resource.
Our aim: to increase young people's understanding and awareness of the cooperative model.
What we did
The Coop in a Box prototype.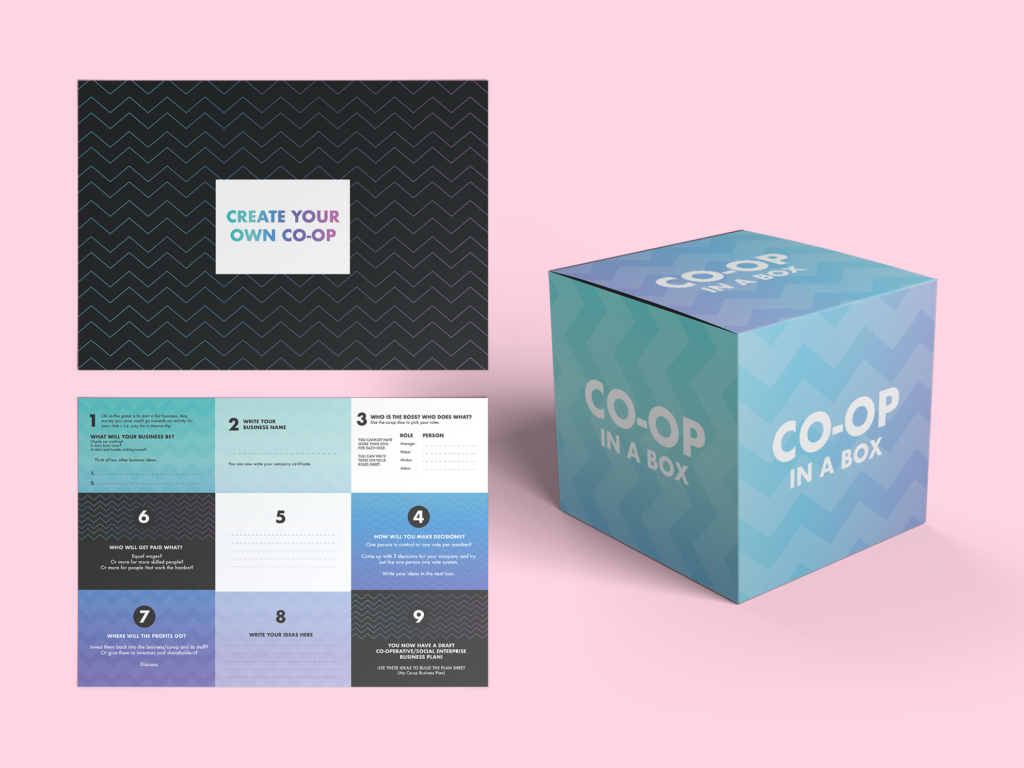 In the Autumn and Winter of 2019, following initial design, the Coop in a Box prototype was taken to Pentwyn Youth Club and trialled with a group of young people. Feedback was positive, and the young people could easily visualise and understand what the Coop in a Box activity involved. When working through the game phase, the group took on board the ethical dilemmas of 'fairness and equality', and consequently came up with solutions to work together fairly and democratically.
For one young person, the Coop in a Box project inspired them to develop their ideas into a more formal business plan. They also concluded that business decisions should be made through a democratic voting system.
Following further feedback from young people and youth workers at Tremorfa Youth Club and a group based in Lliswerry, Newport, we created two versions of the prototype. One version was for under 16s and another for 16 and over.
The finished prototypes allowed young people to see their progress more clearly, and when it was finished one said: "it looks bigger and more impressive".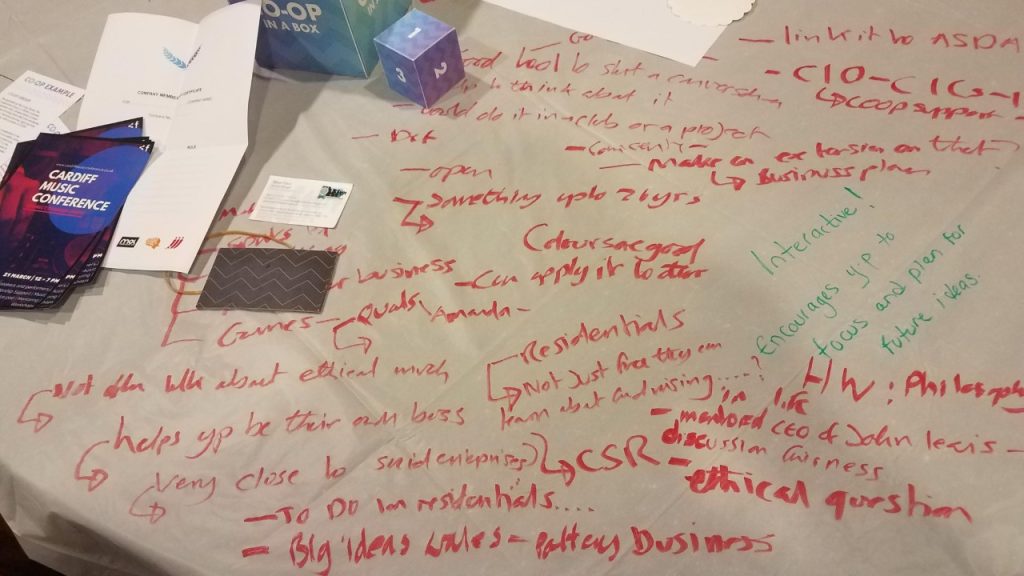 In March the Coop in a Box was presented at the Wales Coop Cross Party meeting in the Senedd and the Wales National Youth Work Conference.
Many organisations gave their contact details expressing an interest in purchasing examples of the learning tool.
There was positive feedback with many individuals and organisations expressing how effective they felt the product would be as a learning tool:
"It's interactive, encourages young people to focus and plan for future ideas."
"Effective to help provide an understanding of how to start your own business."
"Manageable idea and helps young people understand both the big picture and the little picture."
Next steps
We are pleased with the effectiveness of the Coop in a Box prototype and the impact it has had on various groups in different settings.
The Coop in a Box learning tool is particularly suited to the development of sustainable and ethical practices. The Covid-19 pandemic is dramatically impacting on social and economic circumstances throughout the UK and internationally with many speaking of a change needed in societal values. The Coop in a Box can act as a means to inspire and encourage innovative thinking for sustainable and ethical business and to build the cooperatives of tomorrow.
If you would like to purchase a Coop in a Box get in touch with Joff at Ministry Of Life
Email: ministryoflife@live.co.uk
If you are interested in developing your own educational resource with and for young people contact Auguste at ProMo Email: auguste@promo.cymru
If you want to start your a Coop, then contact the Wales Coop