by promocymru_admin | 12th Nov 2012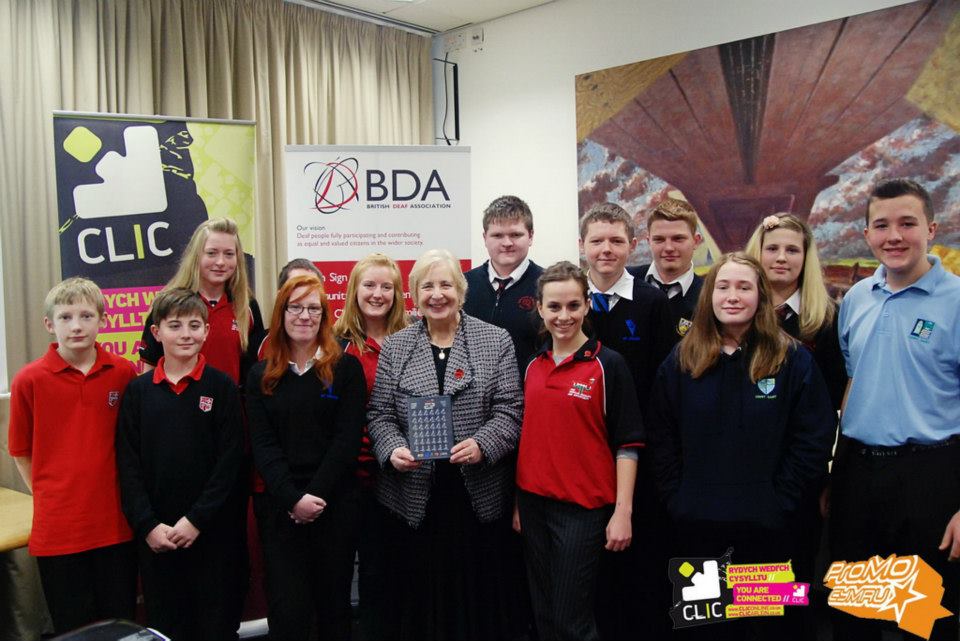 ProMo-Cymru and CLIConline supported DEFFO! to produce a DVD called Children and Young People's Rights, which explains young deaf people's rights under the United Nations Convention on the Rights of the Child.
Funded by the Welsh Government, the DVD is the first of its kind in Wales. Aimed specifically at deaf children and young people, it informs them of their rights in British Sign Language (BSL). It includes youth-led filming with examples of real life scenes made by deaf young people.
The Deputy Minister for Children and Social Services, Gwenda Thomas, met young people from DEFFO! (Deaf for Equality and Fair Opportunities), which is the Welsh Deaf Youth Forum, part of the British Deaf Association in Cardiff Bay on Thursday 8th November to launch the DVD.
Deputy Minister Gwenda Thomas AM said:
"All children and young people in Wales have the right to be treated equally, have access to information, to be listened to and to express their views on matters affecting them – this is at the heart of the film. I was interviewed for the DVD, explaining the Welsh Government's vision for deaf children and young people, and I hope it will be a valuable resource."
Cathie Robins Talbot, Children, Youth and Families Development Manager at the British Deaf Association said:
"I'm delighted that together with the Welsh Government we have developed resources to allow deaf children and young people better access to information. Accessing information in BSL empowers children and young people and this DVD will remove many barriers, particularly focusing on decision making and enabling independence."
Oliver Fitzpatrick, from Swansea who was involved in the filming, said:
"I feel very proud to have been involved in the making of the DVD, I learned some new things about the use of different media and improved my confidence. I am looking forward to the challenge of going around schools with the DVD informing young people of their rights"
Children's Commissioner for Wales Keith Towler said:
"As the Children's Commissioner for Wales one of my main aims is to make sure that all children and young people in Wales know about their rights and how to access them. Rights ensure that children and young people can lead safe, happy and healthy lives. Too often the information available to young people can be limited. This is why it is fantastic to see DEFFO! launch this, the first DVD of its kind to use BSL, which will enable young people who are deaf or have hearing difficulties to access their rights."
To see an extract from the video, click in the image below