by Tania Russell-Owen | 31st Aug 2018
At the end of last month we had to say a sad 'au revoir' to our EVS volunteer Manon De Lalande after 11 months working with us here at ProMo-Cymru. We chatted to Manon before she left about all the things she's done here in Wales and what's next for her.
Manon, 23, comes from Brittany in the North-West of France. Before joining the ProMo-Cymru team in Cardiff through the European Voluntary Service she completed a degree in Communications back home.
Why did you choose Wales?
I chose Wales because I wanted to improve my English, so when I was applying for EVS projects I was only looking in the UK and Ireland. ProMo-Cymru fitted well with my studies and it was a great opportunity for me to practice and learn about communications.
What did you do at ProMo-Cymru?
It was very varied and I got to take part in various activities: communication campaigns; events; creating multimedia projects; producing and editing videos; promotion etc.
My skills changed and improved. I learned so many things during the 11 months. I enjoyed meeting new people and spending time with these new friends, sharing our different cultures was amazing.
What was the biggest challenge?
Speaking English of course! I struggled to find the vocabulary I needed to build the sentence I had in my mind. I felt shy to speak in another language and became withdrawn and wasn't really myself. I needed time to get confident but this is all a part of this experience. I can now say that I met that challenge successfully.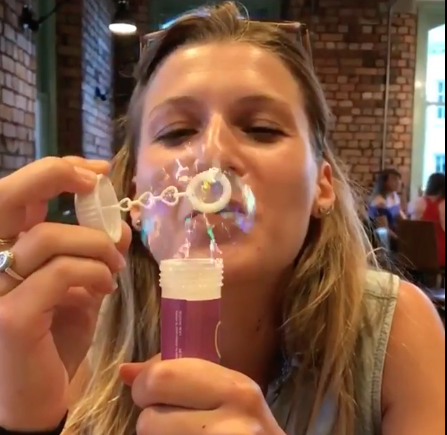 Did you learn a lot during your time here?
I learnt to adapt to new situations, with new people, finding solutions to problems on my own, and being more independent and stronger than I ever thought I could be. Thanks to my housemates, I also got to travel quite a lot which was something I didn't expect, and it has increased my taste for travelling.
Professionally I had lots of new experiences, learnt about new laws and was able to practice more on the computer and in the field. I will be proud to put these things on my CV.
What do you think of Wales?
I love it. Living in Wales was really nice and I'll be doing it again if I get the opportunity. Cardiff is a nice city, it's small but at the same time there are lots things to do. People are so kind and friendly, you feel welcomed and accepted very quickly. It's a lovely country, with wonderful landscapes and I'm so glad I got to discover it thanks to my EVS experience. I will really miss the kindness of the Welsh people when I go back to France.
What are your thoughts about ProMo-Cymru and your co-workers?
I think ProMo-Cymru is a really good organisation, with an amazing team of staff. I felt like a part of the team and everyone tries to help each other. I felt everyone was really supportive and caring.
Are you glad took part in the EVS scheme?
I don't regret it at all; it has been the best year of my life so far. If I had to do it again, I wouldn't change a thing. It was a really amazing experience, an enriching one that I will never forget.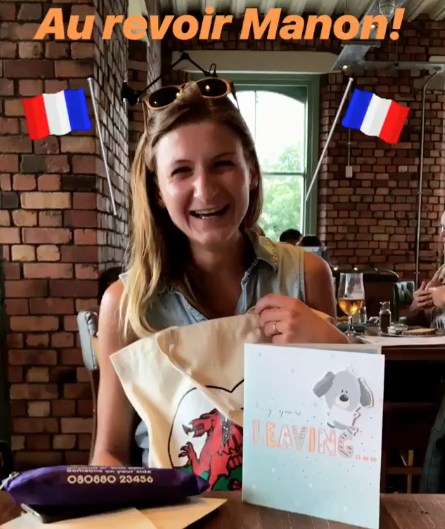 In September Manon is starting her two-year Political Communication Masters Degree in Paris. We wish her all the best in her future and hope that our paths will cross again someday.
---
Our new EVS volunteer Daniele Mele from Italy will be starting with us soon. We look forward to welcoming him to ProMo-Cymru and hope that his time here will be just as positive as Manon's was.